Protectors of Lord Gwyn
Protectors of Lord Gwyn
The sole purpose of the POLG is to prevent players from killing any of the Lords or Gwyn himself.
The Lords we defend are:
Four Kings
Gravelord Nito
Bed of Chaos
Seath the Scaleless
Gwyn
Other areas we protect:
Forest
Priscilla
The rules are as follow:
Must wear full Black Knight or Silver Knight armor.
Weapons, Shields and Spell are anything you like.
When invading a world before you engage your victim. You must

Point Forward

at your opponent using the emote and only if the situation allows for it.
No healing unless they heal first.
No chain BS unless they try to chain BS you. No Wrath of God spamming unless it is 2 vs 1 or more. Note: Spam at your own risk. POLG's have class and style.
In the event that you invade a fellow POLG and you point at him he should point back to you. At that moment if available use use

Prostration

emote and black crystal out.
KILL EVERYONE!
Special Rule:
POLG's must not attack Gravelord Servants. Remember Gravelord Nito is an ally of Lord Gwyn and as such provides POLG members with extremely valuable allies.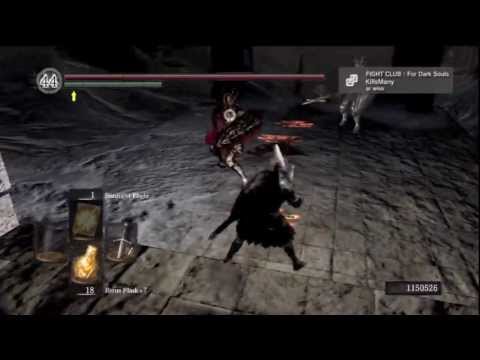 Notice at :58 and :59 how the Black Phantom (our Allies) disappear when the Gravelord is killed.
Gravelord servants have a black smoke aura around them. Will post picture eventually.
ARMOR
full black/silver knight set
Exceptions
Light:black hemmed hood,Gwyn chest,black knight gauntlets/leggins
Heavy:full golem or black knight chest and helmet black iron leggings and gauntlets
Member Ranks and areas of invasion per rank
Rank 1 - Knights Errant Area: forest/Anor Londo
Rank 2 - Knight Area: Anor Londo
Rank 3 - Paladin Area: Anor Londo/Lord Areas
Rank 4 - Knight Captain Area: Lords/Kiln
Leader - Knight Commander Area: Everywhere
Creator-Knight Protector: anywhere
To increase in rank you must present to any Leader or Knight - Captain with your respective in game covenant item. Souvenirs of Reprisal, Eyes of Death, Humanity.
These items maybe farmed or earned and will be given back to you immediately after quantity is confirmed. Items can be given at once if desired. POLG's must help each other rank up. Darkwraiths can choose to have their soft humanity sucked out of them to level up.
Covenant Item Amounts to rank up:
Rank 1: 0 Items
Rank 2: Preform Rite(duel) with a high ranking member
Rank 3: 25 Items
Rank 4: 50 Items
Rank Leader: Must be Granted.
Rank Creator: Creators treat with respect
| PS3 | RANK | XBOX | RANK |
| --- | --- | --- | --- |
| Specter737 | Knight Commander | Nsane32 | Knight Protector |
| Glaitts17 | Knight Captain | SPIRIT OF FURY7 | Knight Commander |
| C7081 | Knight | DarknessxVega | Knight Protector |
| ChizFreak | Knight | Deadmeat95 | Knight |
| Sparkly-twikly-lizard | Knight | Darkstar NY | Knight Captain |
| Peskychipmonk | Knight | Berserker Fate0 | Knight Captain |
| JY4answer | Knight | Unforseen | Knight |
| Halicarnassis | Knight | solitude39 | Knight-Errant |
| Duce 2012 | Knight | Kaminari | Knight-Errant |
| zZLeviathanZz | Knight | xColonelPiratex | Knight Captain |
| javarush214 | Knight-Errant | zI SaVaGe Iz | Knight-Errant |
| Darkstar485 | Knight-Errant | a loyal knight | Knight-Errant |
| aneraxe024 | Knight-Errant | crumpster212 | Knight |
| Lordmaxdomtolvo | Knight-Errant | Longshot95 | Knight Captain |
| | | EpIcliyPwND | Knight |
| aneraxe024 | Knight-Errant | AHS DaNiTh | Knight-Errant |
| whitechikz11 | Paladin | SiLeNTxHiTmAN47 | Paladin |
| ScaryPirateDude | Knight-Errant | PhIlPoTt96 | Knight |
Darkwaiths and Dark Moon Blades
Rules
Armor
Darwaith
Gold hemmed hood
Dark chest
Golem gauntlets and boot
Dark Moon Blade
Brass helm and chest
Sentential gauntlets and boots
the Armor Sets are not required but are recommend more will be added later
Ranks
Ranks are still being decided
| | | | |
| --- | --- | --- | --- |
| | | | |
| Darkwaith | Rank | Dark Moon Blade | Rank |
| | | | |
| | | | |
| | | | |
| | | | |
| | | | |
| | | | |
| | | | |
| | | | |
| | | | |